Regen Wellness Vitamins
Share
Regular price
Sale price
$95.99
Unit price
per
Sale
Sold out
Best Probiotic
Probi-Go 100 is a highly potent, shelf-stable, dairy-free probiotic formulation containing 100 billion CFU per serving. It consists of 10 of the most highly-researched probiotic strains, with each strain and specific CFU count being fully disclosed.
Supports continuous replenishment and stabilization of microbiota 

Supports a healthy GI system

Supports a healthy immune response

Supports normal bowel movements

Provides replenishment of the GI microbiome after antibiotic treatment

 
View full details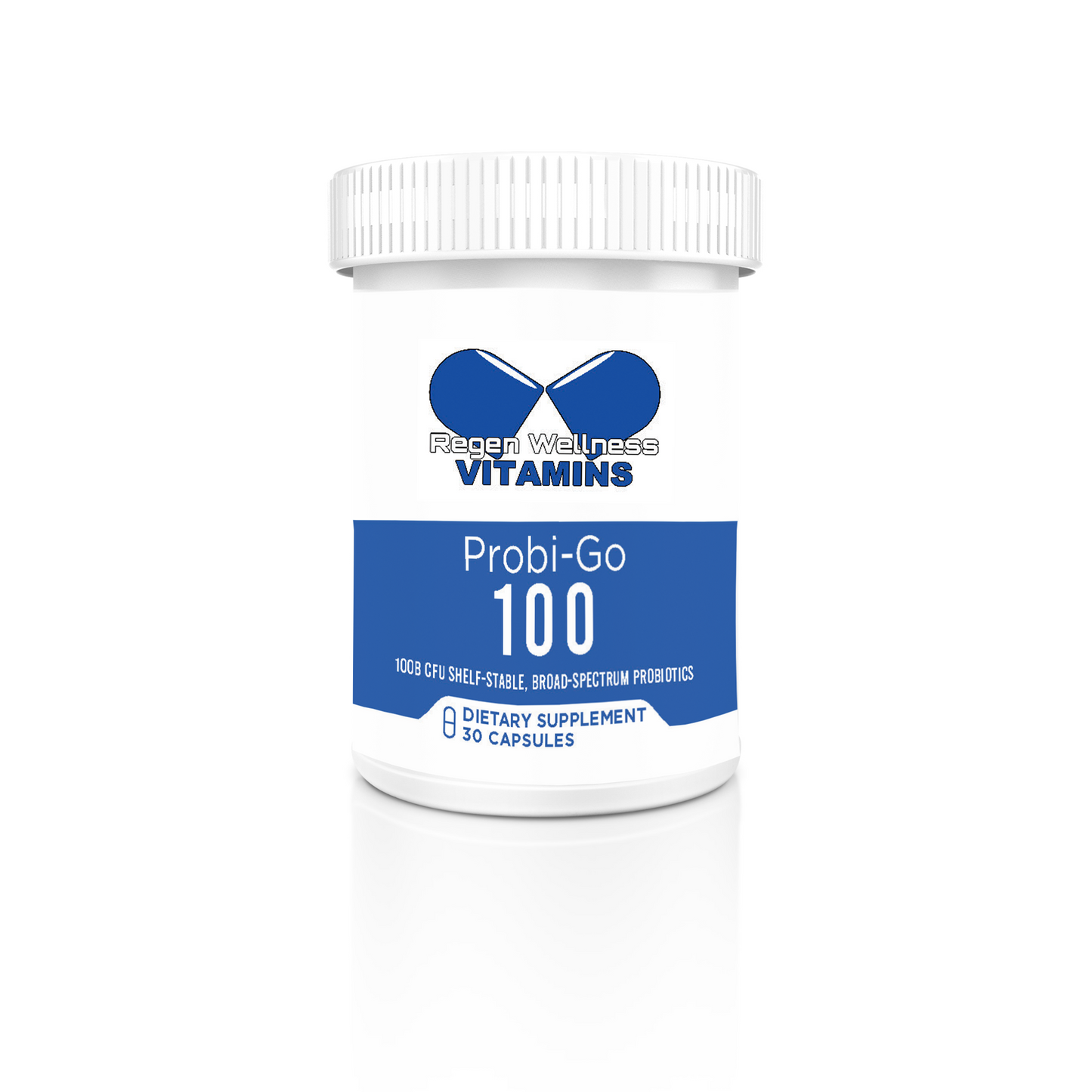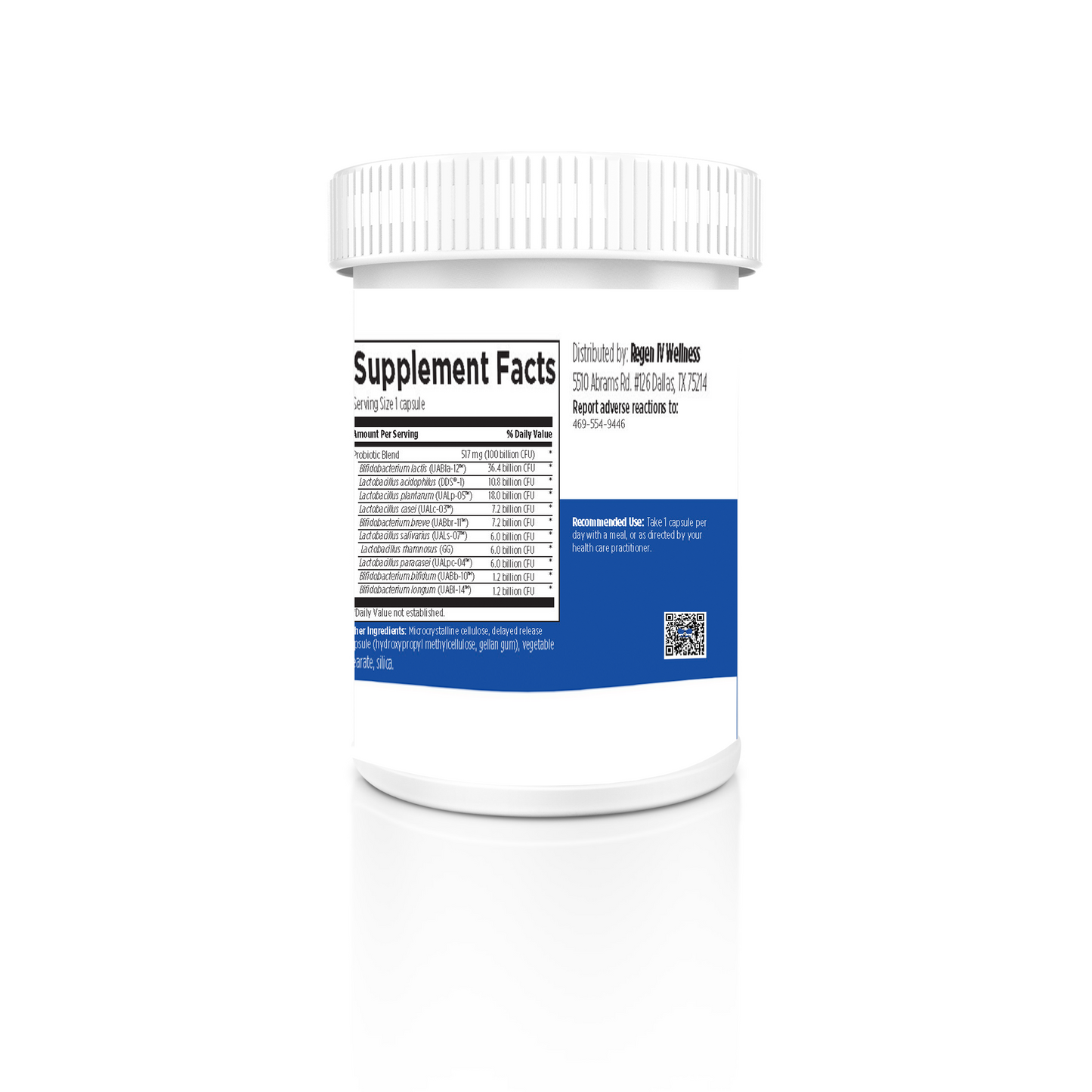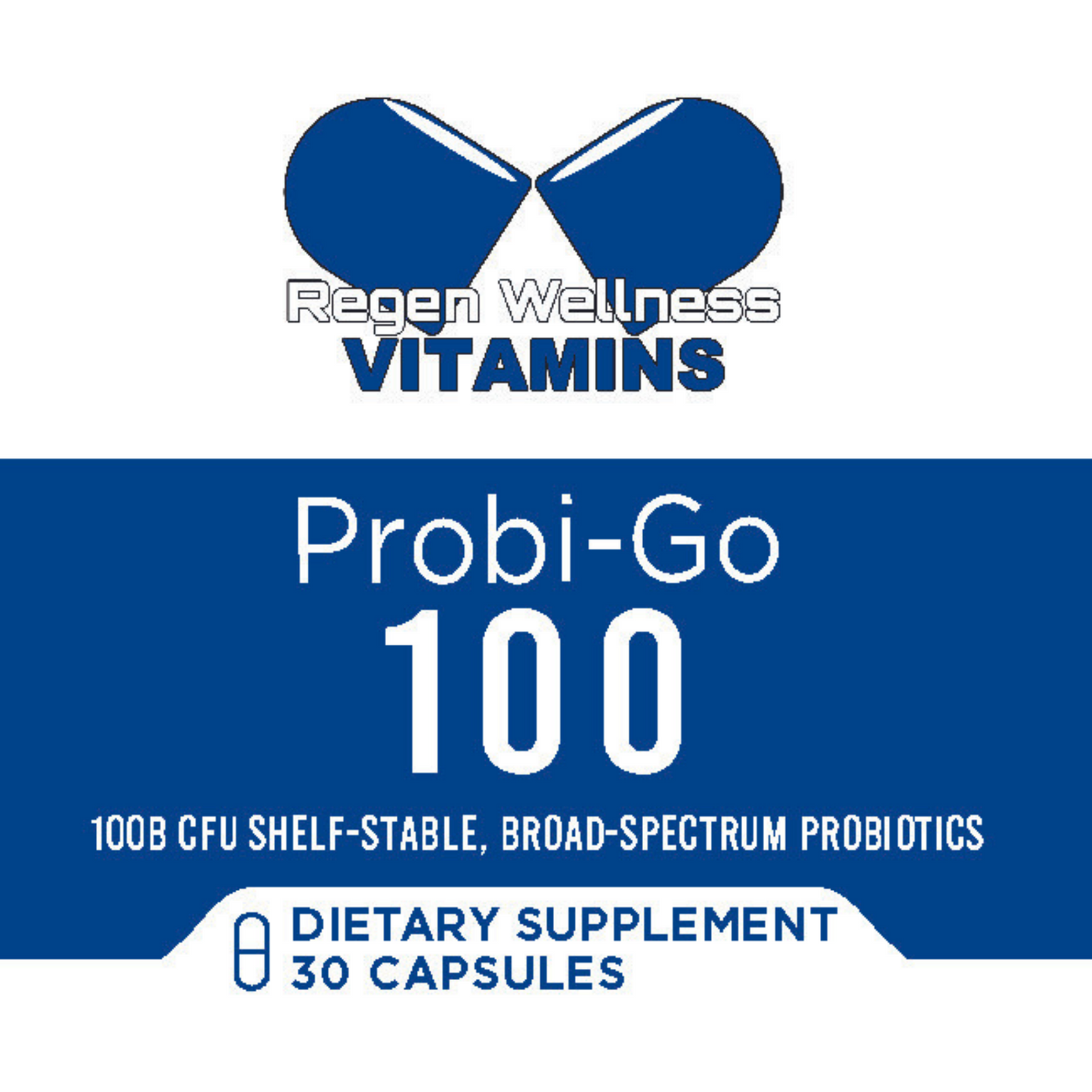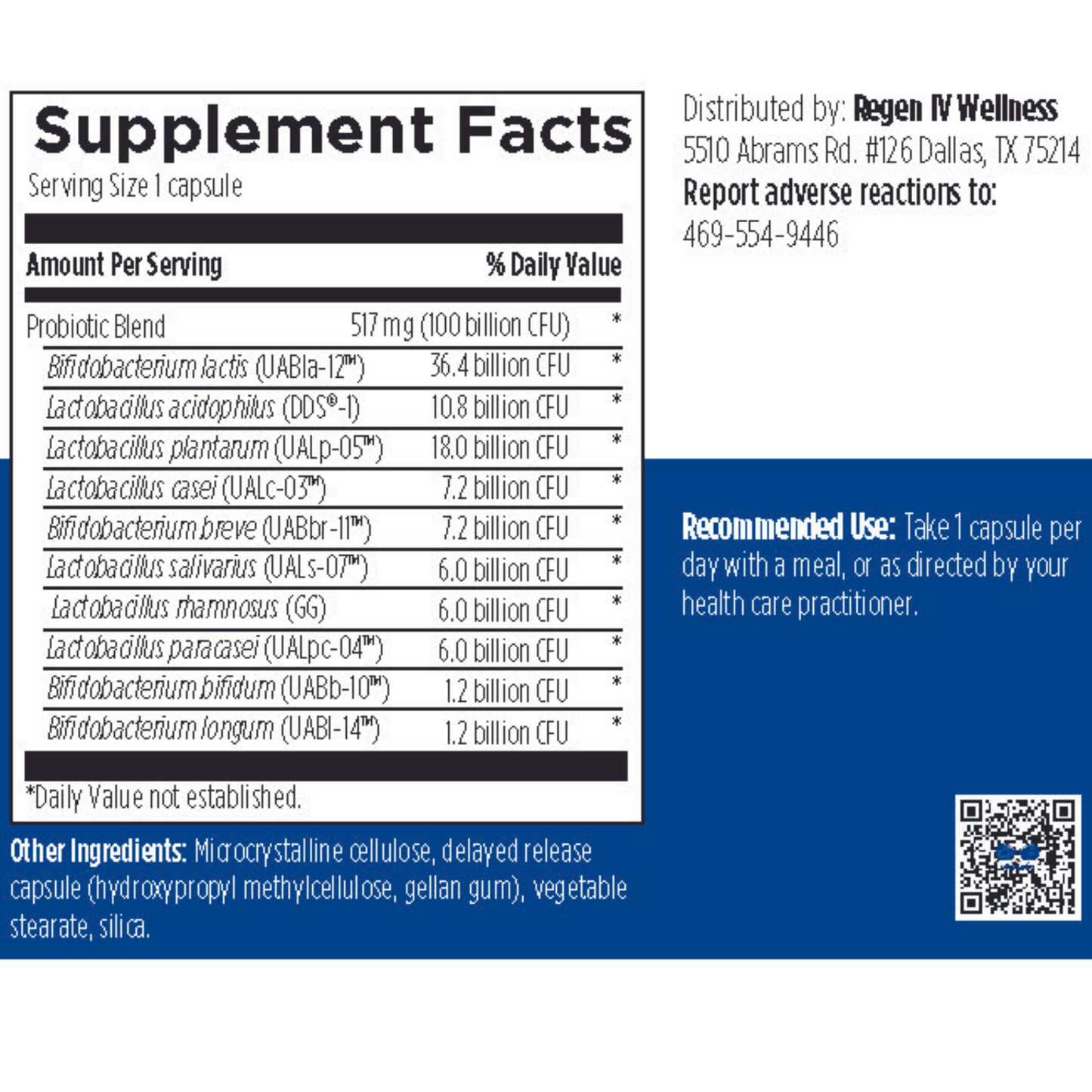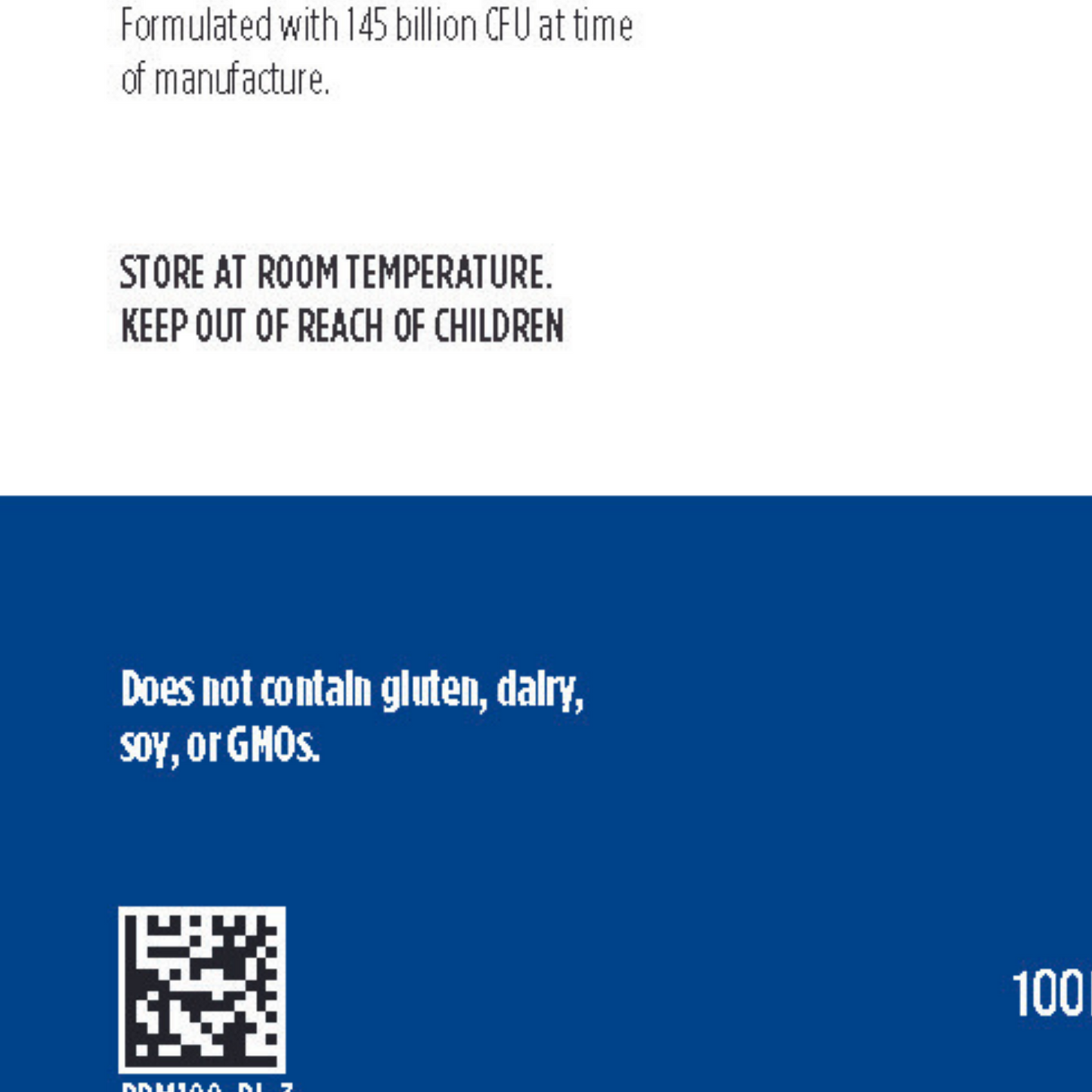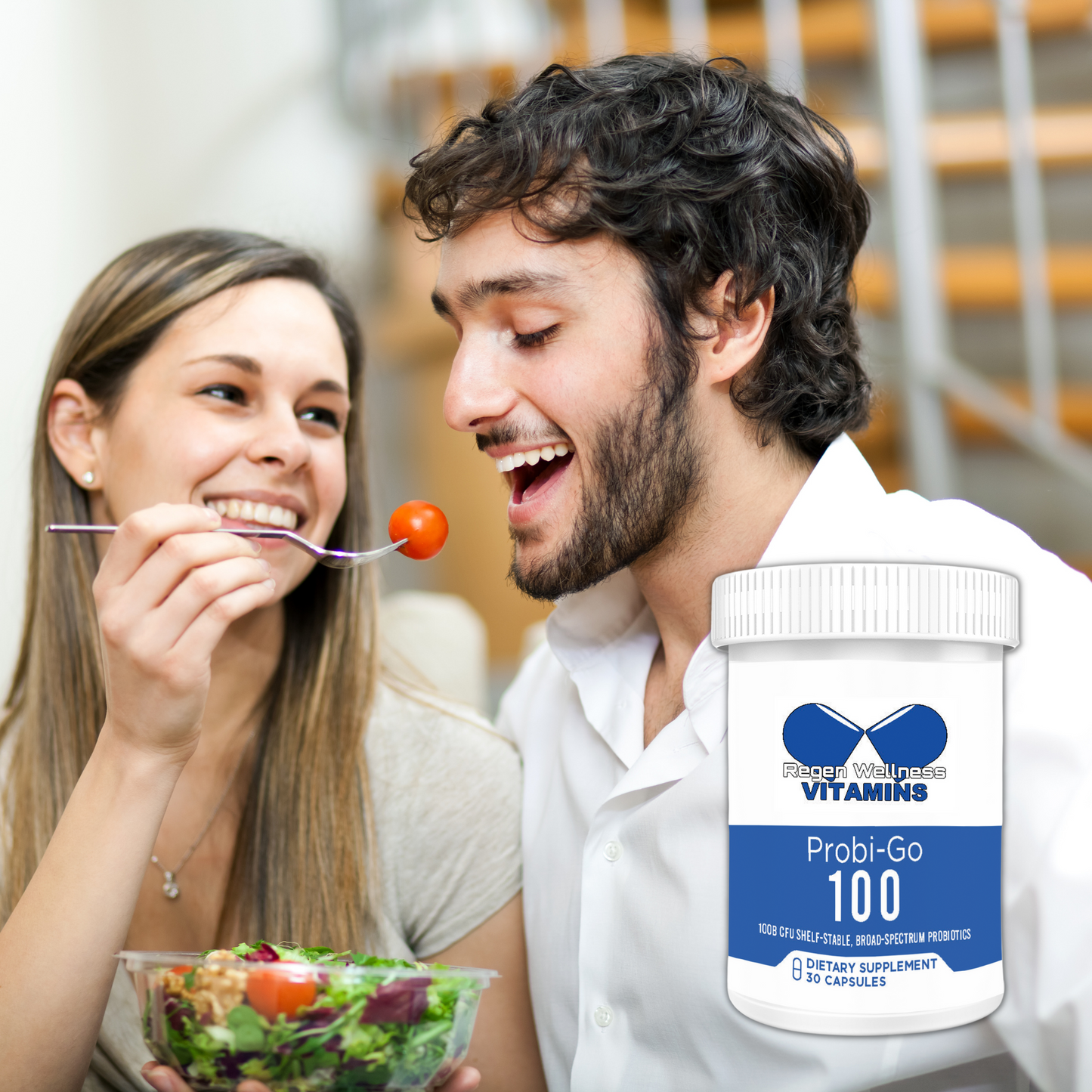 More Details About The Best Probiotic
Details

Probi-Go consists of 10 highly researched probiotic strains in a unique moisture-resistant, desiccant-lined package to ensure
strain survivability without the need for refrigeration.

These are robust strains that are capable of surviving the harsh journey to the intestines and are able to attach to the intestinal walls, where they can grow and function effectively to support gastrointestinal health.*

The survivability of the strains is further assisted by delayed-release technology and unique moisture-resistant, desiccant-lined packaging. This novel packaging removes the need for refrigeration, making Probi-Go 100 convenient for travelers and anyone on the go.

Highlights:

Evidence-based formulations using researched and validated strains
Specific strain identification with disclosed CFU count
Superior tolerance and resistance to stomach acid and bile salts
Capsules featuring delayed-release technology for optimal survivability from stomach acid and properly timed release of the probiotics in the lower GI tract
Dairy-free formulations
Packaged in a unique moisture-resistant, desiccant-lined bottle to eliminate need for refrigeration



Suggested Use

Recommended Use: Take 1 capsule per day with a meal or as directed by your health-care practitioner.

* These statements have not been evaluated by the Food and Drug Administration. This product is not intended to diagnose, treat, cure, or prevent any disease.
Ingredients

The diversity and clinically significant quantities of these specific strains target gastrointestinal (GI) health to
support GI and bowel function and varying degrees of dysbiosis associated with lifestyle or life-stage, antibiotic use, dietary imbalances, or stress.*

Among this family of products are specific strains that promote immune
health during all life stages. Probi-Go provides highly potent probiotics that are clinically effective for continuous replenishment and stabilization of
the microbiota.*

Lactobacillus acidophilus is a potent immunomodulatory probiotic strain shown to promote immune activity by increasing regulatory T cells, inducing chemokine and cytokine response, stimulating dendritic cells to promote T helper type immunity, and improving immunoglobulin (Ig)A response. 

Lactobacillus plantarum significantly inhibits the invasion of pathogenic E. coli, especially when combined with other probiotic strains, and it effectively reduces disturbance of the microbiome resulting from antibiotic therapy.

Bifidobacterium lactis has been present in human food for decades and is broadly recognized for its key role in the human intestinal microflora throughout life. Its anti-inflammatory properties are useful in weakening the symptoms of colitis and supporting the body against allergies and allergic rhinitis.

Lactobacillus casei improves systemic and mucosal immune responses, reducing the occurrence of infections, especially in the elderly.

Bifidobacterium breve is a normal commensal microorganism that prevents and improves constipation, abdominal bloating, and anal itch, burn, and pain. It also helps to improve other symptoms of ulcerative colitis and necrotizing enterocolitis.

Lactobacillus paracasei can inhibit pathogenic Salmonella, S. aureus, E. coli, and listeria while protecting and restoring the microbiome after antibiotic therapy.

Lactobacillus salivarius mitigates inflammatory symptoms and modulates cytokine production and the cellular response to pathogenic challenges while restoring a disrupted microbiome.

Lactobacillus rhamnosus is a potent immunomodulatory strain that increases interleukin and cytokine production.

Bifidobacterium bifidum improves functional constipation and symptoms of IBS, including abdominal pain, bloating, belching, flatulence, and diarrhea.

Bifidobacterium longum improves the composition and metabolic activities of colonic bacterial communities and immune parameters, helping the symptomatic effects of celiac disease, IBS, and functional constipation.
More About The Best Probiotic
Learn more about the special features & ingredients that make this one-of-a-kind probiotic a safe and effective way to balance your gut health.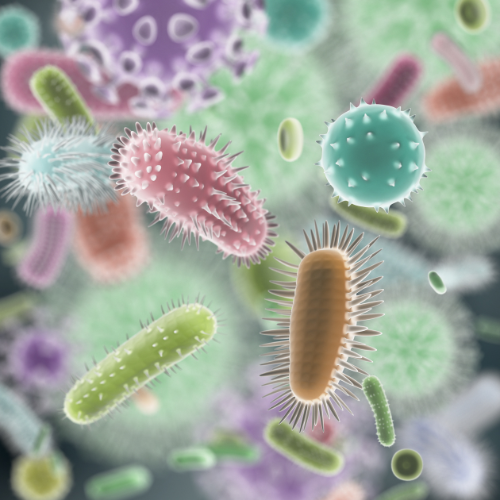 100 CFUs
CFUs, or colony forming units, is an important number to look at when choosing a probiotic. This number refers to the variety of bacteria and yeast strains that are present in the supplement. The higher the number of CFUs, the more diverse selection of bacteria to improve gut health.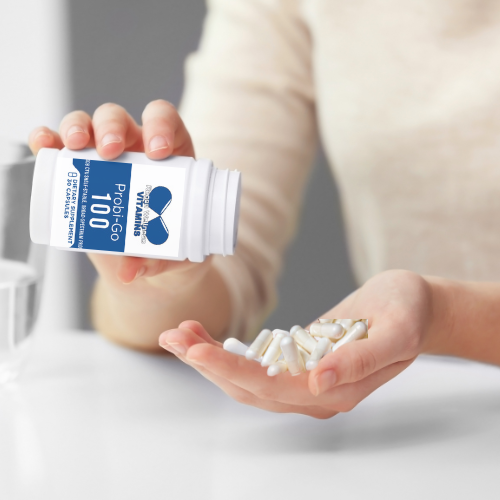 SHELF STABLE
Most quality probiotics should be refrigerated to maintain the integrity of the colonies. This can make it inconvenient to be consistent with a high-quality probiotic. The special moisutre-resistant, dessicant-lined bottle eliminates the need for this probiotic to be refrigerated.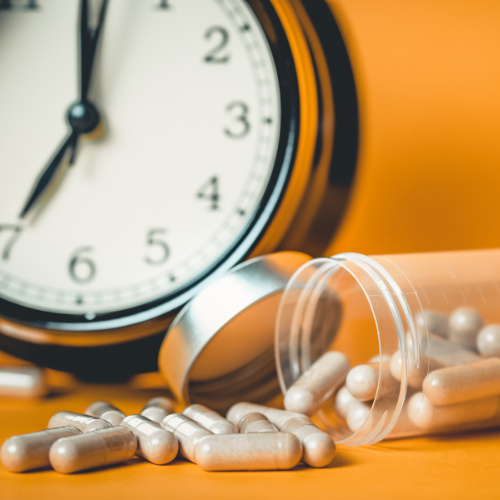 TIME RELEASE
The digestive tract is designed to process food and keep bad bacteria at bay. Unfortunately, this can also prevent good bacteria from a probiotic from making it safely to your stomach. Probi-Go capsules feature delayed-release technology for optimal survivability from stomach acid and properly timed release of the probiotics in the lower GI tract.
Try our complete line of Gut Health supplements.
OPTIMIZE YOUR GUT HEALTH BY COMPLETING YOUR SUPPLEMENT REGIMEN WITH OUR COMPLETE LINE OF GUT HEALTH SUPPLEMENTS