Quicksilver Scientific
Regular price
Sale price
$47.99
Unit price
per
Sale
Sold out
Immune Support Vitamins:
Liquid Elderberry, Vitamin C, E, K1, K2, 10,000 IU Vitamin D for Optimal Immune System Support (100ml)
Share
View full details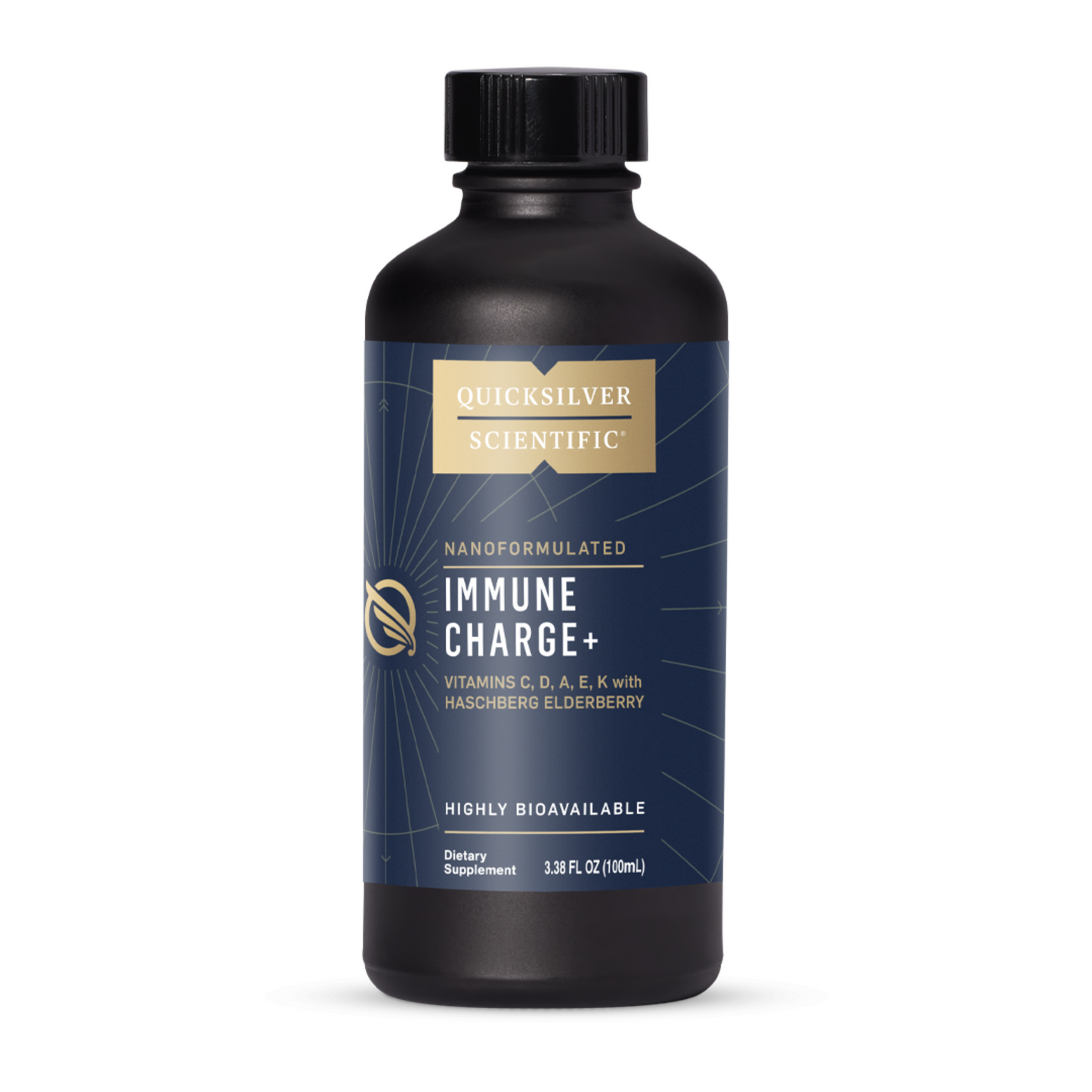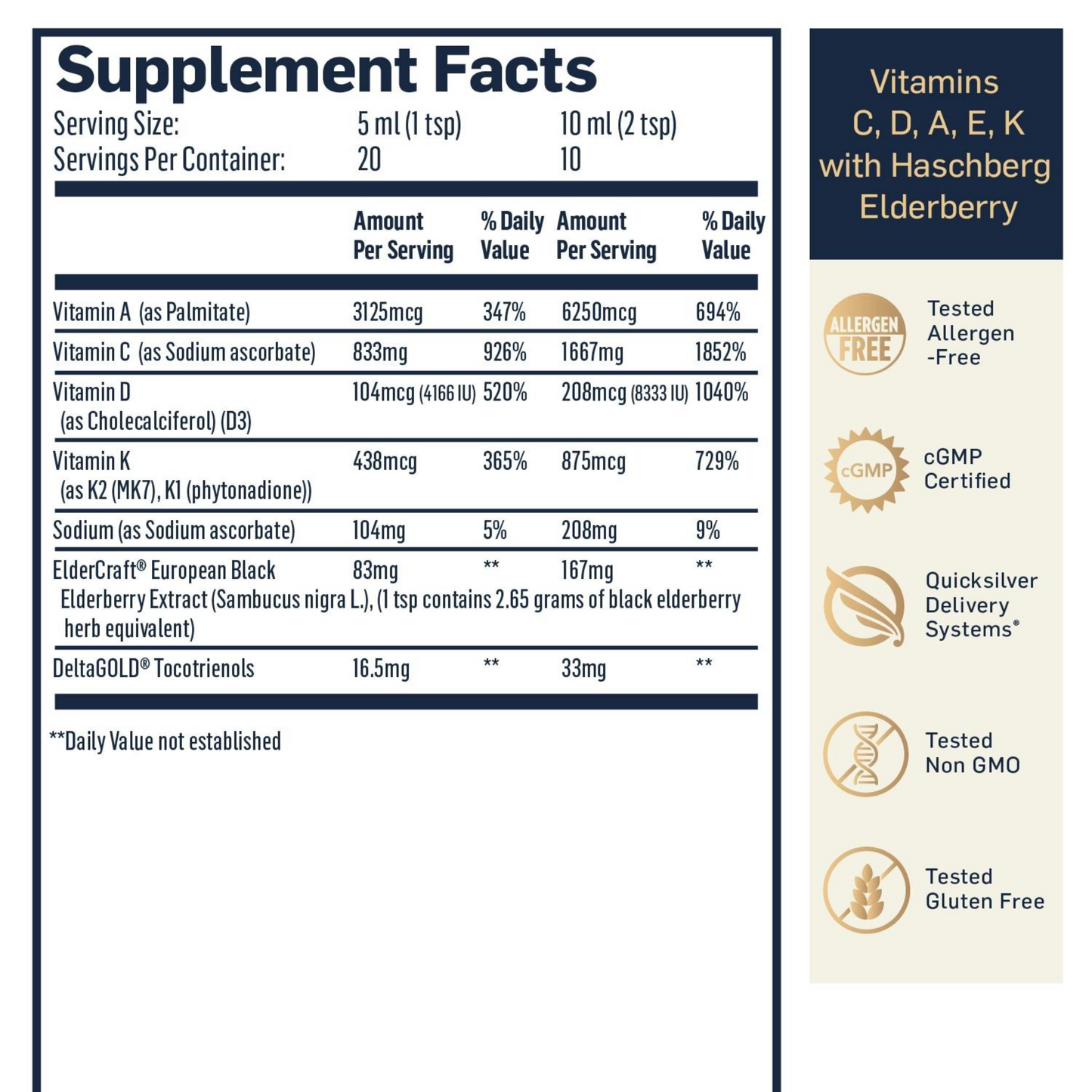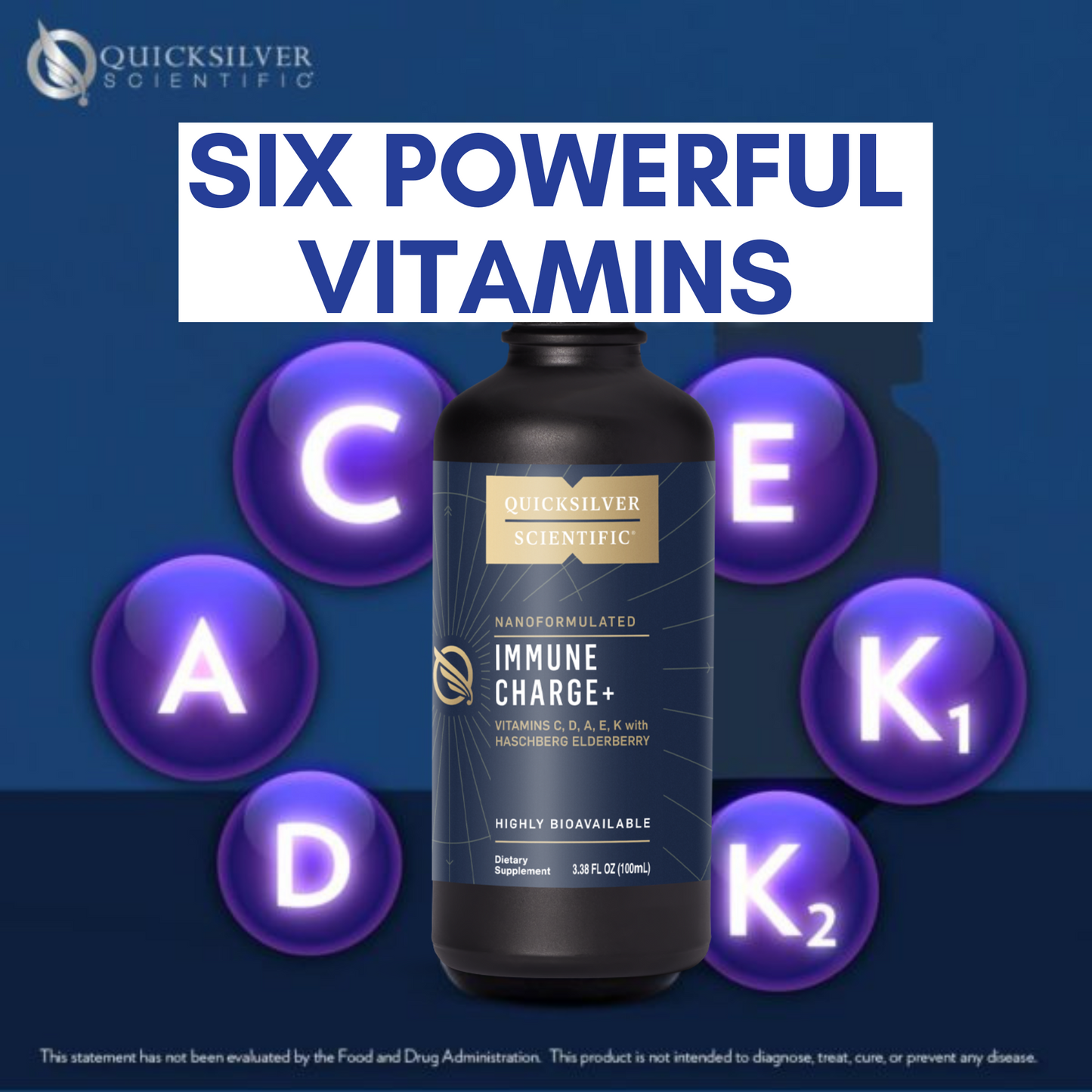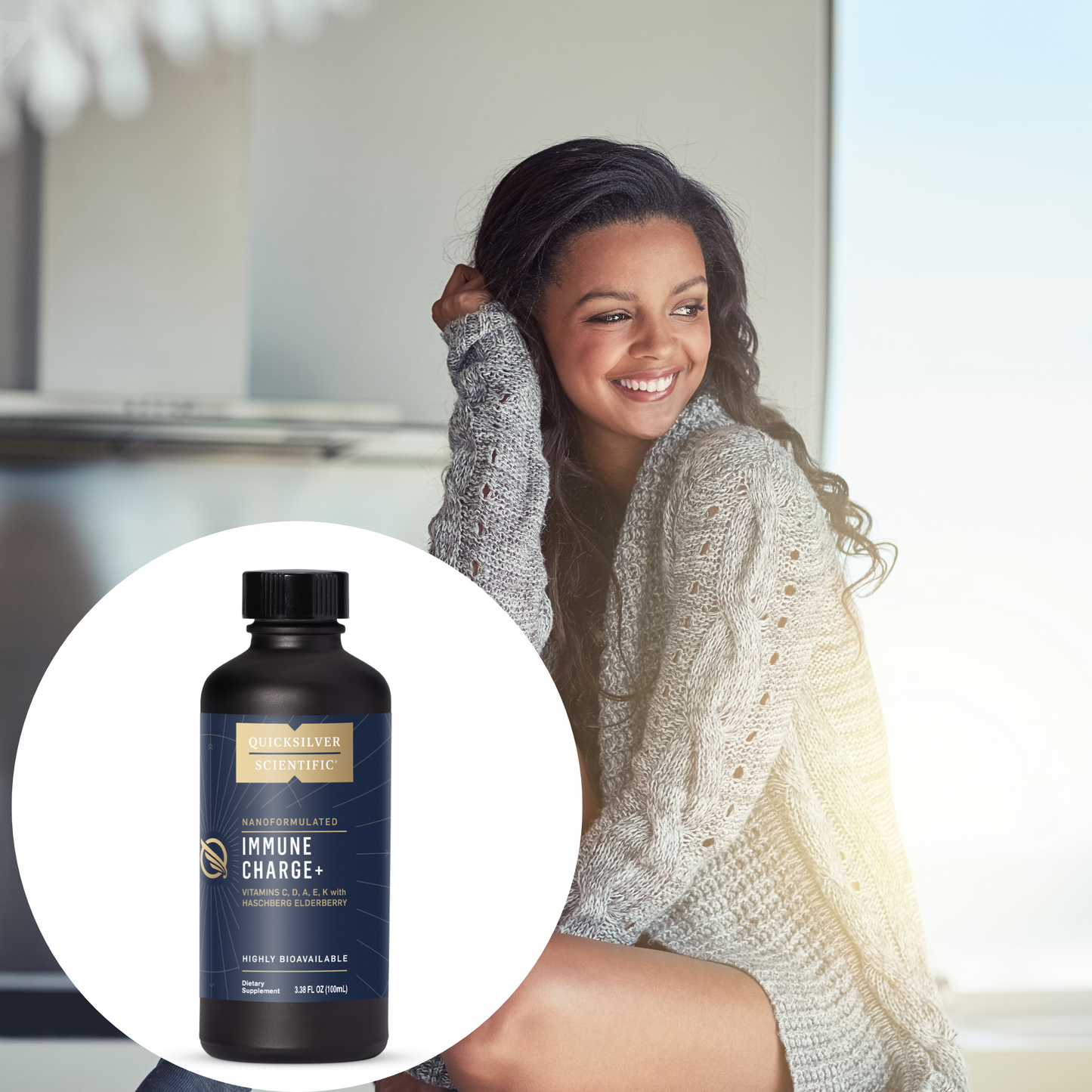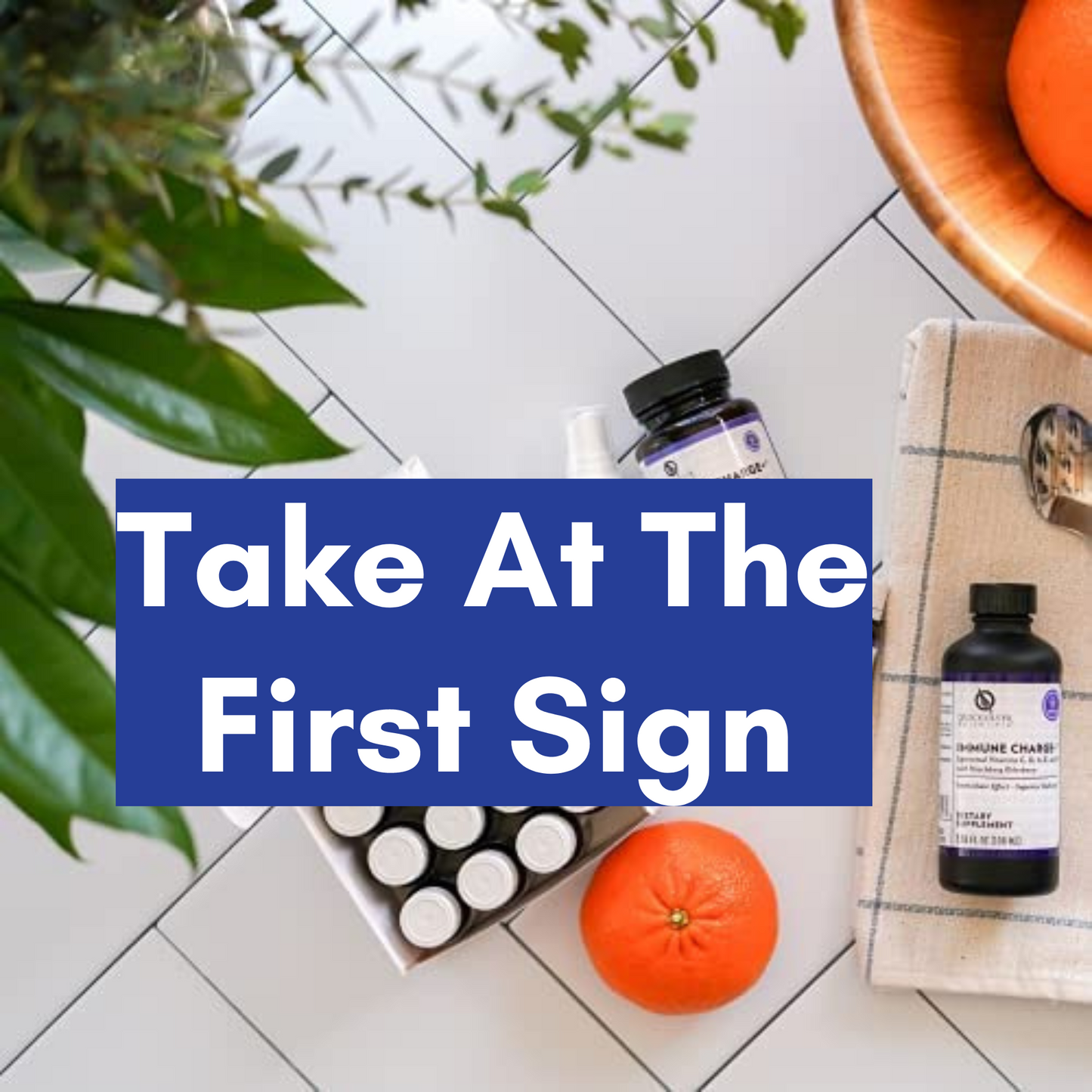 Get More With Immune Support Vitamins
Details

The Need for Improved Immune Support
The immune system is the body's natural defense against various environmental threats, such as bacteria and viruses that can cause sickness or disease if left unchecked. For many people, however, their immunity can be weak or compromised due to a variety of factors such as lifestyle choices, stress levels, diet, or genetics. To help bolster your body's defenses, it's important to look into ways to naturally supplement your immune system and fortify it against potential illnesses that may come your way during seasonal changes and other times throughout the year when immunity can be most vulnerable.*

This is where First-Line Immune Support comes in! This titratable formula enhances rapidly strengthens the body's defenses from potential seasonal challenges while providing additional support from vitamins A, D, E and K1/K2.* Let's take a closer look at how this product works and why it might be beneficial to take on a regular basis!


The Benefits of Taking First-Line Immune Support

Enhanced Defenses Against Seasonal Challenges - With the use of standardized Haschberg elderberry extracts combined with high doses of vitamins C, A, D, E, and K1/K2 - this powerful formula helps enhance defenses against seasonal challenges.* This blend of ingredients helps build up the body's natural immunity by stimulating white blood cell production which helps fight off foreign invaders more efficiently.*

Furthermore, it also helps reduce inflammation in the body which may enhance recovery from potential illnesses.*


Strengthening the Body's Natural Defenses with Advanced Liposomal Technology - First-Line is formulated using an advanced liposomal technology which allows for faster absorption of these key ingredients into the body upon ingestion.* This technology bypasses normal absorption barriers so that you can begin feeling its effects almost immediately after taking it!*

Supporting Respiratory Health with Vitamin C and E - Vitamins C & E both play important roles in supporting respiratory health as they serve as strong antioxidants to protect delicate lung tissue from damage caused by free radicals.* Additionally vitamin E also has inflammatory properties which help limit inflammation linked to respiratory distress or asthma attacks.*

Enhancing Immune Defenses with Elderberry Extracts - Elderberry fruits are well known for their antioxidant properties which can help protect cells from oxidative damage caused by free radicals while helping activate specific proteins responsible for fighting off invaders like viruses or bacteria.* Traditionally elderberry has been used in herbalism to support immune defenses and common health disruptions in many cultures worldwide since antiquity!*

Fast Acting Formula for Optimal Immune Response - As mentioned earlier thanks to its advanced liposomal technology this formula allows for fast absorption of all its key ingredients so you can start feeling its effects almost immediately after ingestion!* Its fast acting nature makes it ideal if you need immune support quickly whether you're looking to maintain general wellbeing or needing some extra help during acute challenges like cold or flu season.*



Taking the Necessary Steps Towards Stronger Immunity
First-Line Immune Support offers an effective way to naturally supplement your body's ability to ward off environmental threats while providing additional nutritional benefits in terms of vitamins A, D, E & K1/K2 contents.* Its combination of standardized Haschberg elderberry extracts along with advanced liposomal technology make this product not only fast acting but also incredibly efficient at enhancing your body's natural defenses against various illnesses.* Whether you're looking for maintenance support or something more intensive during times when your immune system could use a boost – considering taking First-Line as part of your daily regimen towards stronger immunity!
Suggested Use

How To Use

Take 1 tsp (5 mL) daily, or as directed by your healthcare professional. If pregnant or breastfeeding or planning to become pregnant, consult with your physician before use.

 

Take immune support to the next level with Immune Charge+, a potent, high-dose liposomal blend.*

With concentrated elderberry, vitamin C and vitamin E.

Includes a powerful 10,000 IU vitamin D and 1050mcg vitamin K per shot to support a healthy immune response.*

Typical Elderberry and vitamin C products have poor bioavailability. Liposomal technology has been found to significantly enhance the absorption of these nutrients.*

Can be taken for regular or intensive use as directed by your healthcare practitioner.

 

Immune Support Vitamins - Immune Charge Brochure

 

 

 

 

 

 

 

*These statements have not been evaluated by the Food and Drug Administration. This product is not intended to diagnose, treat, cure or prevent any disease.
Ingredients

Supplement FactsServ. Size:5 mL (1 Tsp) – Regular Dose

AmountDailyServ. Per Container: 20

Per Serv.Value

Vitamin A (as Palmitate)3125mcg347%

Vitamin C (as Sodium Ascorbate)833mg926%

Vitamin D (as Cholecalciferol)(D3)104mcg(4166IU)520%

Vitamin K (as K2 (MK7), K1 (phytonadione))438mcg365%

Sodium (as Sodium Ascorbate)104mg5%

ElderCraft® European BlackElderberry Extract (Sambucus nigra L.),(1 tsp contains 2.65 grams of black elderberry herb equivalent)83mg**

DeltaGOLD® Tocotrienols16.5mg****Daily Value (DV) not established

Other Ingredients:Water, Glycerin, Ethanol, Phospholipids (from purified sunflower seed lecithin), Vitamin E (as Tocofersolan), citric acid, natural citrus oils.
"I love Quicksilver Scientific. Awesome! Really revives the body. Quicksilver Scientific products are nutrition you can feel."
Get our complete line of Quicksilver Scientific Immune Charge+ Products.
ULTRA CHARGE YOUR IMMUNE SYSTEM
Quicksilver Scientific Immune Charge+