Quicksilver Scientific
Share
Regular price
Sale price
$72.50
Unit price
per
Sale
Sold out
Elderberry Syrup
Immune Charge + Box 
Elderberry syrup, portable Immune Charge+ Shots .  Box of 12 shots formulated for optimal immune system support with:
Elderberry
Vitamins C, E, K1, K2,
10,000 IU Vitamin D
View full details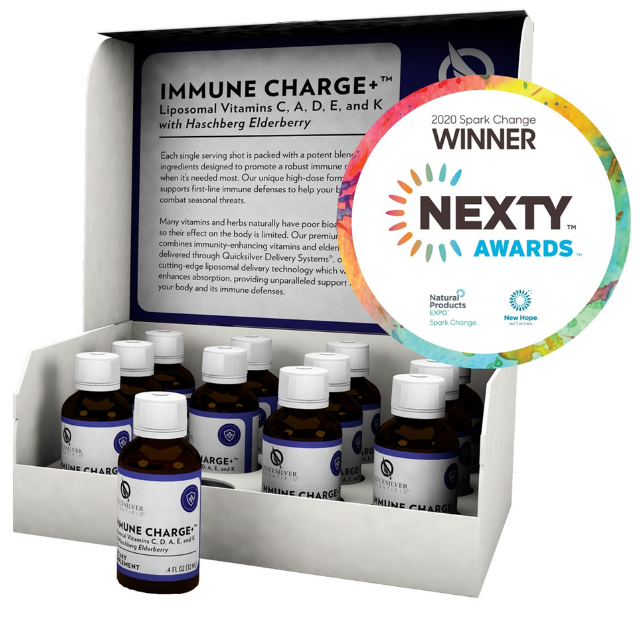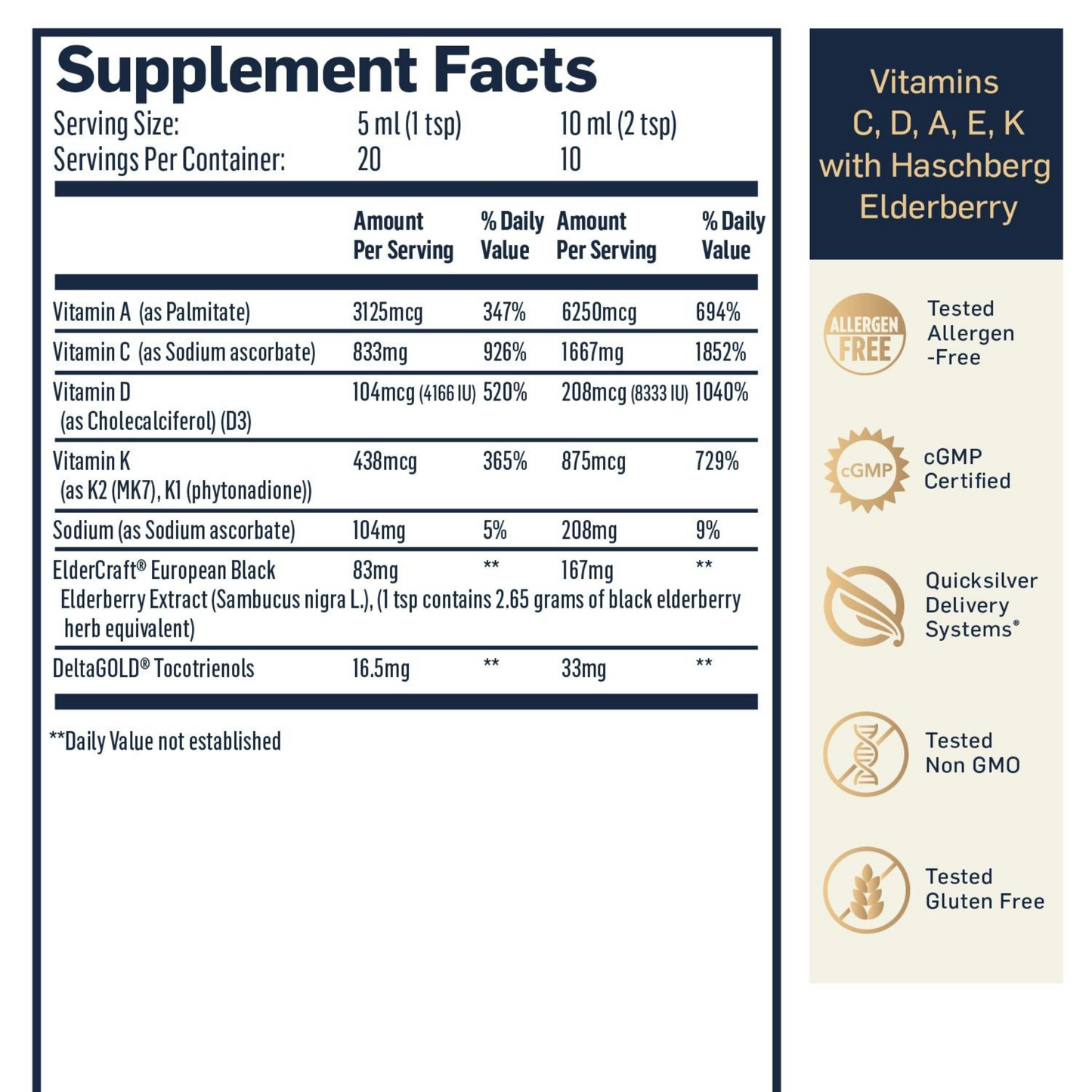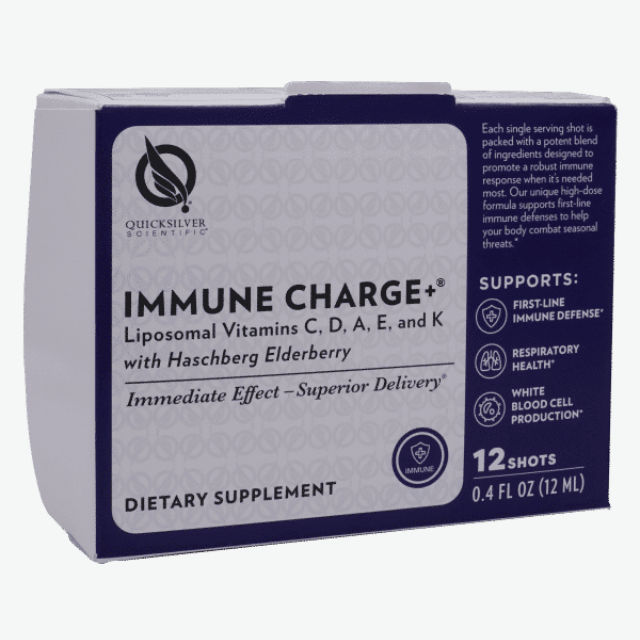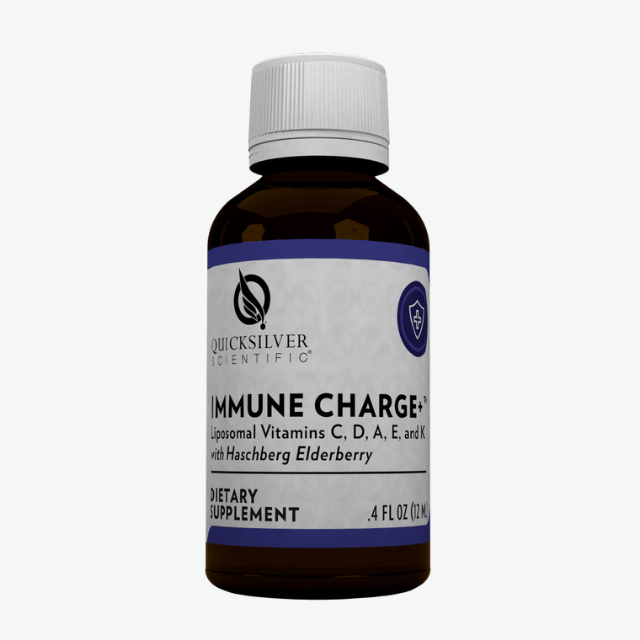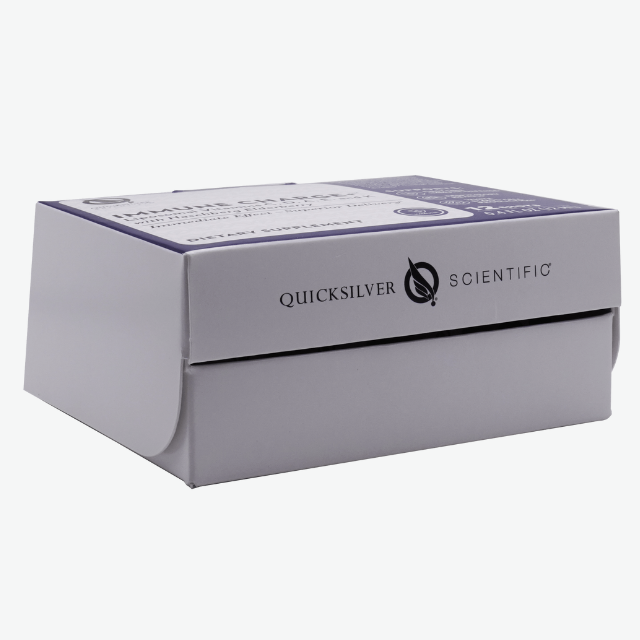 Elderberry Immune Charge Shots
Highlights

Why People Rave About Immune Charge - Immune Support Vitamin Shots

Convenient, single-serve, fast-acting power shots for optimal immune support. Contains concentrated elderberry, vitamin C and vitamin E. Includes a powerful 10,000 IU vitamin D and 1050mcg vitamin K per shot to support a healthy immune response.
Details

*Standard elderberry and vitamin C supplements have low bioavailability. Liposomal technology is shown to significantly enhance the absorption of these nutrients.

*Can be taken for regular or intensive use as directed by your healthcare practitioner.

Immune Support Vitamins -
Ingredients

First-Line Immune Support Vitamin Shots

Immune Charge® is a provides power-packed immune defense with a blend of vitamins and elderberry. Immune Charge® is designed to rapidly strengthen immune reaction and protect the body from health-compromising threats.

Vitamin C – Vitamin C supports the integrity of the skin, lungs, and gastrointestinal tract, which serve as the body's first-line defenses against illness. It reduces excessive pathogen-induced free radical production, protects the lungs during viral respiratory infections, and boosts the production of antiviral defenses.

Vitamin E – Vitamin E protects cell membranes from the oxidative damage that can occur during microbial threats and increases the rapid development of white blood cells.

Vitamin D – Vitamin D3 reduces negative immune responses to one's own body and increases immune defenses against bacterial, fungal, and viral invaders.

Vitamin A – Vitamin A maintains barrier integrity throughout the body, including the lining of the lungs and gut where a lot of our immune system resides.

DAIRY FREE

GLUTEN-FREE

NON-GMO

TESTED ALLERGEN FREE

VEGATARIAN

(12 Single Serving Shots)

Refrigerate After Opening

*These statements have not been evaluated by the Food and Drug Administration. This product is not intended to diagnose, treat, cure or prevent any disease.
"Love the prodcuts and research and delivery system"
- LOYAL QUICKSILVER SCIENTIFIC CUSTOMER -
Check out the entire line of Immune Charge+ products.
Complete Immune Charge+ Collection